Time to patch!
Changelog:
[

feature

] Caravan occupancy


Each caravan now has a button next to the sleeping spots indicator that will open the occupancy list

Employees can be assigned to a different caravan directly from the list

For each employee this may only be done every 24 hours

The feature "empty caravan" was removed in favour of the new feature.


[

feature

] Shift schedules: New option to prepare for the shift


Since patch #49 employees prepare for their next shift, to be as fit as possible when it starts. This increases the consumables demand.

When creating a new shift you will now have the option to disable this behaviour for each shift individually.

Saving a schedule as template will of course also save this setting.


[

new

] New stall with level 9: Great Tombola (comes with the skins Tombola, Boutique and Silvermine)

[

fixed

] Time of forum posts was displayed wrong.

[

fixed

] After a contractual penalty, you could disassemble a caravan but not sell it until the event was over.

[

fixed

] Inspections: Text variable was displayed instead of an error text.

[

fixed

] Profile: In case of an error, no error messages where displayed when submitting a new post

[

fixed

] The dialog for fueling, creating a shift, buying consumables / spares etc. closed if the slider was released over the dark background.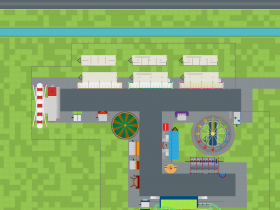 New Tombola attraction added to the game