Patch #28 includes bug fixes, a new feature, new content for the site plans and a new attraction!
Changelog:
[

feature

] Site plans: You can now place vehicles of all attending businesses on the map.

[

new

] Site plans: The terrain mode features new ground tiles: Water, railroad tracks, a railroad crossing and parking lots.

[

new

] Site plans: The build mode has a new "Misc" category, containing new objects like a hoarding, a tree and 4 different buildings. You may place as many as you want of these on your maps!

[

new

] New attraction available on the market: Family ride "Looping the Loop" (Level 11)

[

fixed

] Inconsistent income calculations after a weather change.

[

fixed

] Some icons were not properly loaded in some browsers.

[

fixed

] Site plans: Objects were highlighted and selectable even if the cursor was a tile next to it.

[

fixed

] Site plans: The info dialog for attractions and caravans was opened while moving the map.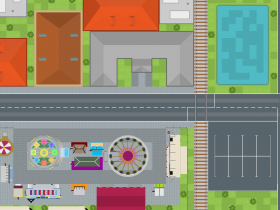 New tiles and placeable objects now enhance the site plans feature.